Download and Install
Instructions
PDS Perfusion Pro 2.0 is a Windows Presentation Foundation application. It was developed from scratch with the primary design of logging a medical procedure that involves perfusion using a touch screen. It is responsive on any modern PC computer running Microsoft Windows 10.
Requirements:
Software

Microsoft Windows 8 or higher
Microsoft .NET 4.52 or higher

Hardware

8 GB of RAM
10 GB of hard disk space
The faster the hardware, the faster PDS Perfusion Pro will run. An SSD drive is recommended as a good way to increase overall system speed.
The setup is packaged rather simply, but requires some interaction during install. The installation can be done by any user on a computer (it does not have to be an Administrator level account). The installation requires bypassing some warnings from Windows 10 concerning trust. Because of the specialized nature of PDS Perfusion Pro, there are not enough installs being done for Microsoft to consider it trustworthy.
You can download the setup from here or use the big button at the top of the page:
When the setup is downloaded, screens like the following will be shown: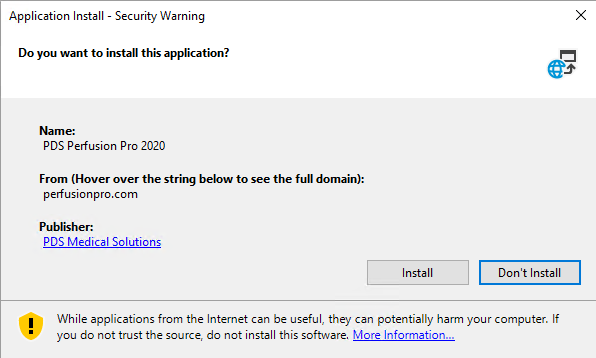 Most applications show something like it. You can select Install to proceed with the installation. The application will download and it should only take about 10 seconds. It's about a 25 MB download.
You will then see this warning message: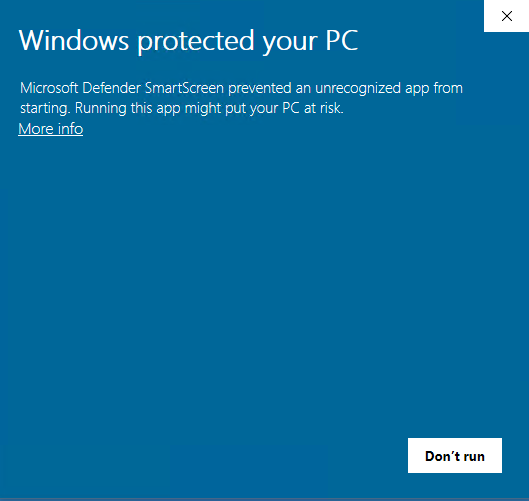 It seems like you only have an option to "Don't run", but if you select the link that says "More info", the message will change. PDS Medical Solutions shows as the publisher, and the App shows as PDS.PerfusionPro.2020.WPF.EXE. A "Run anyway" button will also appear.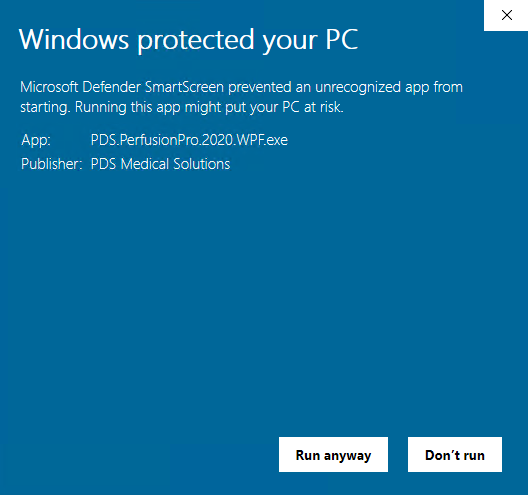 Click the "Run anyway" button to run PDS Perfusion Pro. You will then see the license agreement that shows at the startup of the program each time. Select the "Agree" button and you should be on the main screen with the following buttons showing:

Once you have the program running, you may want to review (and perhaps even print) these instructions:
Instructions for PDS Perfusion Pro 2.0
If you have any trouble with the install process or using the program, feel free to contact us.